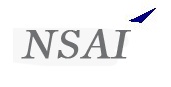 International Consultants: Security & Business Management

The NSAI Approach


NSAI has a number of associates with considerable global experience in all aspects of aviation security.

NSAI is conversant with the current international regulations and best practises and is able to provide advise and specialist expertise for a wide range of international civil aviation security requirement standards and recommended practises.

NSAI works with clients to first fully understand the existing security management processes and interfaces. It is critical that all rolls and responsibilities are fully understood and this understanding is tested.

NSAI will then produce a comprehensive and unambiguous framework for the whole security management process, including if required the use of computer based training/auditing technology.

This framework could include development of appropriate training packages, introduction of new security procedures, audit control systems, etc.


The benefit to our clients


NSAI will deliver effective and value for money approach to managing the whole security product.

NSAI also has ability to provide technical advice and deliver appropriate HR training and change management programmes.

NSAI firmly believes these objectives can only be achieved by working in partnership with their client and is committed to effective delivery of any change programme.